Schlieren, 1 July 2022: Axians is expanding its information security management system in Switzerland and is now certified to ISO/IEC 27001:2017 guidelines in all cyber security-related services.
For more and more companies, safeguarding the confidentiality, correctness and availability of IT systems, applications and stored data is becoming a challenge that is difficult to solve, because cyber attacks are not only steadily increasing, they are also being carried out ever more professionally.
In order to offer its customers effective and comprehensive protection against threats from cyber space in the long term, VINCI Energies and its brands Axians and Actemium in Switzerland have greatly expanded their existing range of services in many areas, created new organisational units and made substantial investments. The increase in security in the "Axians Cloud" and the creation of an IT/OT Security Operation Centre jointly run by Axians and Actemium are just two examples.
Axians has had an ISO 27001 certified information security management system in Switzerland for several years. To ensure that the new services also meet the same high standard, they have also been certified according to ISO/IEC 27001:2017.
«For us, it is absolutely essential that our entire portfolio in the area of cyber security meets the highest standards. Our customers must be able to rely on the maximum possible protection at all times. Thanks to the expansion of our information security management system, we are setting the ideal framework conditions for this.» specifies Güven Zorba, Head of the Business Area IT & Managed Services of Axians in Switzerland.
The ISO/ICE 27001 certification complements the recertifications in the areas of quality management (ISO 9001), occupational health and safety management (ISO 45001) and environmental management (ISO 14001), which were also recently successfully completed.
Contact media
Beat Thoma
+41 61 716 70 70
beat.thoma@axians.com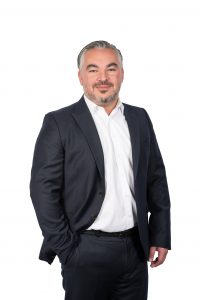 Güven Zorba, Director Business Area IT & Managed Services at Axians in Switzerland (Source: Axians)

Axians in Switzerland
The Axians Group in Switzerland is part of VINCI Energies' global brand network for ICT solutions. Axians offers an integrated ICT portfolio to help companies, municipalities, public institutions, network operators and service providers to modernise their digital infrastructures and solutions. In the business units in Switzerland, consultants, developers and technicians work to improve people's lives – for example, by expanding broadband, cloud and data centre infrastructures, cyber security, enterprise networks, IoT platforms and leading software for public administration.
2021: 835 employees // 20 locations // www.axians.ch
About Axians
Axians supports its customers — private-sector companies, public-sector entities, operators and service providers — in their infrastructures and digital solutions development. To this end, Axians offers a comprehensive range of ICT solutions and services spanning business applications and data analytics, enterprise networks and digital workspaces, datacenters and cloud services, telecommunications infrastructure and cybersecurity. Axians's specialized consulting, design, integration and service teams develop bespoke digital transformation solutions that contribute to successful business outcomes for its customers. Axians is a VINCI Energies brand.
2021: EUR 2.7 billion turnover // 12,500 employees // 27 countries // www.axians.com
About VINCI Energies
In a world undergoing constant change, VINCI Energies contributes to the environmental transition by helping bring about major shifts in the digital landscape and the energy sector. Keeping pace with market change, VINCI Energies integrates customised multi-technical solutions to help its customers roll out technologies that serve a useful purpose and care for the planet, from design to implementation, operation and maintenance. With their strong regional roots and agile and innovative structure, VINCI Energies' 1,800 business units have positioned themselves at the heart of the energy choices their customers make, boosting the reliability, efficiency and sustainability of their infrastructure and processes.
2021 : €15,1 billion // 85.700 employees // 1.800 Business Units // 57 countries // www.vinci-energies.com