The demand for cyber security services is constantly growing, which is why the ICT service provider and management service provider Axians is continuing to expand this segment. Two recognised experts, Alexander Reusch and Mathias Bücherl, have joined the recently founded Business Unit Security.
Axians set up the Business Unit Security at its Reinach/BL site in October of this year and immediately opened a second site in Rotkreuz/ZG. The arrival of two proven and experienced specialists to the team headed by Freddy Bürkli underlines the importance of this area at Axians.
Alexander Reusch has joined the team as Head of Sales. He has many years of experience and great expertise in the field of cyber security. He has over 30 years of industry expertise in many well-known international companies in a variety of positions and fields, from Key Account Manager to Chief Technical Officer. He has been instrumental in defining, introducing and implementing ICT and security strategies.
Axians was also able to recruit Mathias Bücherl for the role of Head of Consulting. With his years of experience in cyber security, he brings a lot of know-how to the table. He will be heavily involved in the development and implementation of individual and customised solutions, will advise customers on all aspects of cyber security solutions and drive the further development of the portfolio. Mathias Bücherl has had an impressive international career. For example, he played a key role in developing T-Systems' international business in the EMEA, APAC and American regions. As Senior Security Bid Manager, Security Solution Designer and Security Architecture, Managed Cyber Defense he has been a driving force in the development and implementation of global processes, providing first-hand advice to customers and establishing security operation centres in Asia and Latin America. He is also a lecturer in Cyber Security at Baden-Württemberg Cooperative State University (DHBW).
"Alexander Reusch and Mathias Bücherl are expanding Axians' local expertise in Switzerland and I look forward to working with them in the future. With their expertise and experience, we can offer a broad portfolio of security solutions from a single source and make a valuable contribution to optimising our customers' security concepts. In Europe, we can call on the expertise and experience of a total of 350 security specialists," adds Freddy Bürkli.
Photos
Freddy Bürkli, Leiter Business Unit "Security" bei Axians in der Schweiz
Alexander Reusch, Head of Sales Cybersecurity bei Axians in der Schweiz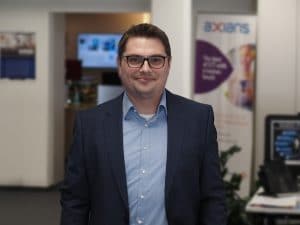 Mathias Bücherl, Head of Consulting Cybersecurity bei Axians in der Schweiz